Zero tolerance: CNN fired three workers who refused to be vaccinated
Amazingly, scientists were able to develop a vaccine to fight the COVID-19 pandemic within a year. And 70% of Americans got at least one of their shots.
But there is a large group of people who have chosen not to get vaccinated. Vaccination has become a culture war issue, and many in the right-wing media are pushing for hesitation against the shot.
Consequences will come for those who do not want to protect themselves and others. In some cases, it can cost them their jobs. CNN CEO Jeff Zucker recently laid off three employees who didn't want to be annoyed.
An internal email from Zucker read:
"So far we have left the vaccination certificate to an honor system. Although we have asked for confirmation of your status via Passcard, it is not absolutely necessary to present a vaccination card. Last week we were made aware of three employees who came into the office unvaccinated. All three were fired. Let me make that clear – we have a zero tolerance policy on this. You must be vaccinated to get to the office. And you need to be vaccinated to work in the field with other employees, whether you walk into an office or not. Period. We anticipate vaccination evidence could become a formal part of the WarnerMedia Passcard process in the coming weeks. Regardless of this, our expectations remain. "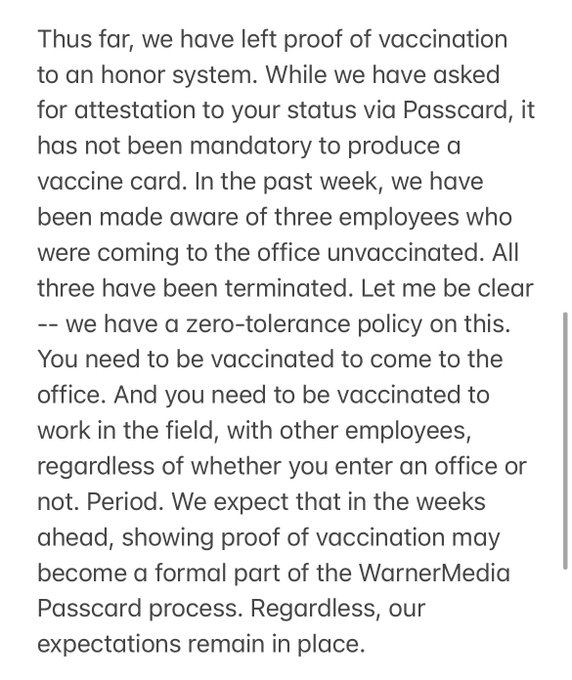 Todd Neikirk is a New Jersey-based policy and technology writer. His work has been featured on psfk.com, foxsports.com and hillreporter.com. He enjoys sports, politics, comics, and spends time with his family on the waterfront.